Solidarity to the Wem Gehört Der Laskerkiez? campaign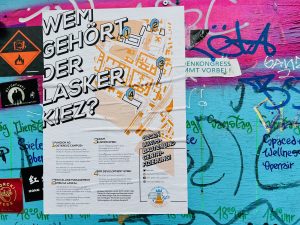 Tesserae stands in solidarity and strongly supports the WemGehörtDerLaskerkiez? (Who owns Laskerkiez?) initiative and its campaign for the preservation of the Laskerkiez neighbourhood and the Zukunft am Ostkreuz cultural centre.
Laskerkiez is a lively and colourful neighbourhood located in Berlin Friedrichshain between Ostkreuz and the Spree and is home to several important solidarity and self-governing organisations, including the Laskerwiese, the house project Bödi 9, techno club About:Blank, upcycling arts collective Czentrifuga and the Zukunft am Ostkreuz, just to name a few.
Right now, long-established cultural institutions and local businesses are gradually being displaced in favour of a series of – mainly office and commercial – construction projects by non-neighbourhood large investors and real estate groups.
In spring 2021, residents and cultural workers organised and joined forces as an initiative, "Who owns Laskerkiez?", united in action against gentrification in the neighbourhood.
The initiative is now calling for the preservation of the Zukunft am Ostkreuz cultural centre, which is also a cinema, theatre, exhibition venue, beer garden and pub. However, the Zukunft is not only that: it is all the other things in between, a hybrid space for discussion and networking and a base for many cultural needs and offerings.
As others, the Zukunft am Ostkreuz is falling victim to large investors who speculate with properties in attractive locations. The Zukunft lease was not extended and will expire in March 2022; what will happen with the site after that is still not clear. Actions against the termination of the Zukunft already have thousands of supporters and the petition to preserve the Zukunft has more than 11.000 signatures.
Join the fight and sign the petition here: https://www.change.org/p/abgeordnetenhaus-berlin-rettung-des-kulturstandortes-zukunft-am-ostkreuz
Follow the WemGehörtDerLaskerkiez activities: https://twitter.com/laskerkiez
Follow the Zukunf am Ostkreuz on Twitter: https://twitter.com/ZukunftOstkreuz