URBEX Training in Palermo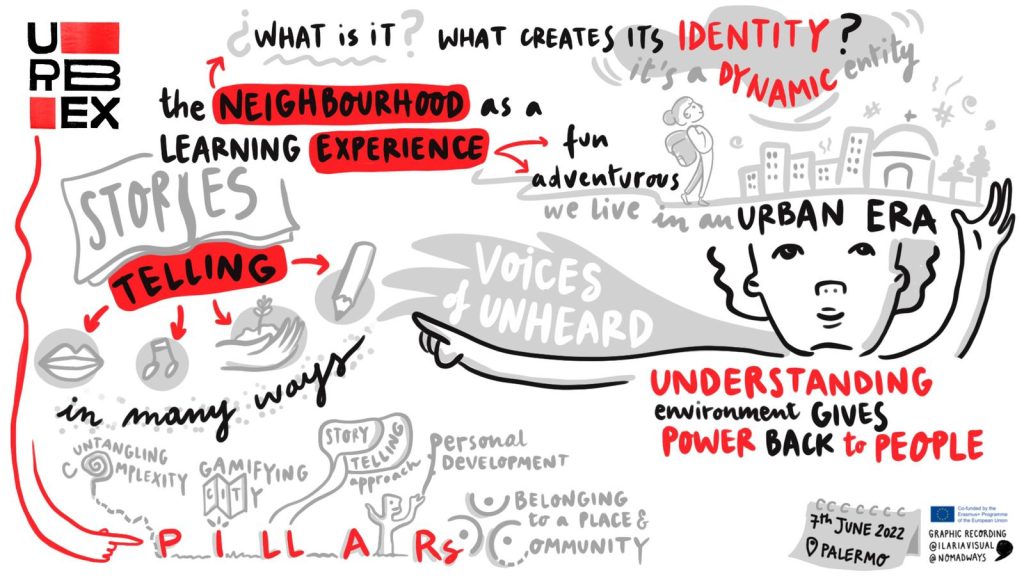 From June 7-11 Tesserae co-delivered training workshops for social workers in the URBEX project. We shared and tested methods and exercises of urban exploration aimed at youths. The experience was extremely valuable, rich and funny! Below are some visual notes and twitter threads documenting the 4 days.
In the following steps of the project we will produce a handbook on Urban Exploration for youth, and publish open educational resources via the URBEX website.
Starting the @urbex4youth training program in #Palermo with a wonderful group from all over Europe. #urbex4yout pic.twitter.com/R232jYzetm

— Tesserae (@tesseraeUSR) June 7, 2022
Introducing #UrbanReconnaissance to the participants, before going out for a mission pic.twitter.com/NtbY9VBu5x

— Tesserae (@tesseraeUSR) June 7, 2022
Discussing the #SecretMission exercise in groups #urbex4youth pic.twitter.com/SMjoM3rUKG

— Tesserae (@tesseraeUSR) June 7, 2022
Day 2
Starting Day 2 at #Urbex4youth. How do you feel in a sheep scale from 1 to 9? pic.twitter.com/IpKPMhRt7U

— Tesserae (@tesseraeUSR) June 8, 2022
Day 3
Ilaria from @Nomadways introducing the adventurous world of mapping pic.twitter.com/smxf1aU16h

— Tesserae (@tesseraeUSR) June 8, 2022
Out for the second exploration exercise, this time the mission is to build a story #urbex4youth pic.twitter.com/1aYWFYYBPw

— Tesserae (@tesseraeUSR) June 8, 2022
…preparing the final presentation pic.twitter.com/XpmrDox578

— Tesserae (@tesseraeUSR) June 8, 2022