WHO OWNS KREUZBERG?
WHO OWNS KREUZBERG?
Mapping spaces of creativity and resistance
An Urban Reconnaissance workshop with ogino:knauss
Coordinated by Tesserae, Berlin
'Who owns Kreuzberg?' is a workshop running over three weeks in September 2019  aimed at activists, artists and engaged citizens. Taking place in Berlin, its goal is to provide insights into the complexities of urban transformations in the city and to create tools for supporting the struggle for the right to the city.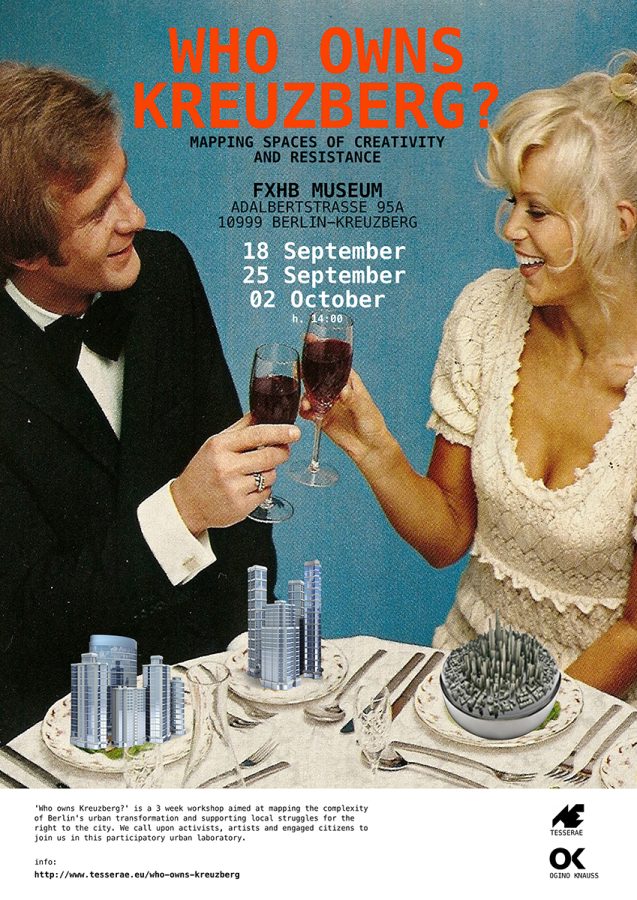 The workshop has three main objectives:
To investigate how the identity of Kreuzberg, forged during the last fifty years on a culture of resistance and alternative visions, survives the current pressures of financial capital and market forces.
To test methodologies of critical co-creation in urban territories.
To place local struggles for space and ownership into an international context and connect them with other global resistance movements.
The workshop will use a process of urban reconnaissance to explore a selected target area. Urban Reconnaissance is a trans-disciplinary methodology of investigation of the socio-spatial dimension developed by the ogino:knauss collective. It is based on a set of 64 exercises to explore the complexity of urban territories according to multiple perspectives.
The final outcomes of the workshop will be developed by participants through individual projects which will converge to form one collective, co-created body of research.
The workshop will take place at the FHXB Museum in Kreuzberg and will have a special focus on the role of community museums as spaces of organization and creation of alternative historical narratives.

Workshop Program: 
(dates to be confirmed)
 Day 1 – Wednesday September 18, h.14
14:00 – Workshop opener: introduction of goals, methodology, expected outcomes.
15:00 – A historical introduction to Kreuzberg's regeneration and social struggles.
16:00 – City walk
17.30 – Discussion and assignment of individual tasks
19:00 – Optional dinner/drinks and social
Day 2 – Wednesday September 25, h.14
14:00 – Workshop opener: review of group progress and individual tasks
16.00 – Planning and itinerary for final presentation
19:00 – Workshop close
Day 3 – Saturday September 28, h.14 . (TBC!)
14:00 – Preparation for the final presentation
16:00 – Final presentation and city walk
20:00 – Optional closing dinner/drinks
The working languages of the workshop will be English and German.
WHO OWNS KREUZBERG? is realised in the framework of the EU H2020 'Cocreation' project. It is part of a series of three laboratories coordinated by Tesserae in collaboration with community museums in Mexico City, Rio de Janeiro and Berlin, and is aimed at collecting materials for an exhibition dedicated to resistance practices and counter-narratives from marginal territories in the context of global urbanisation.
Location:
FXHB Museum
Adalbertstraße 95A
10999 Berlin-Kreuzberg
Info & registrations:
info@tesserae.eu