ZUKUNFT am Ostkreuz - Bike Demo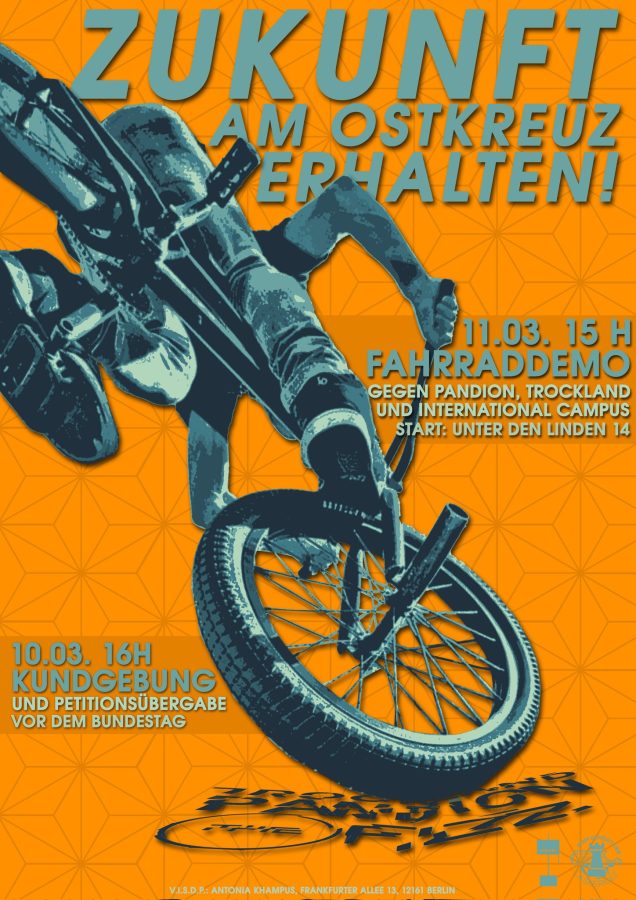 Fahrradkorso zu Pandion, International Campus und Trockland!
Next Friday March 11th there will be a 'bike demo' against gentrification in Berlin's Ostkreuz district, visiting some of the most critical sites of property speculation in Berlin along the way.  The itinerary will connect real estate companies that have gentrified the neighbourhood to the extreme and have given the starting signal for the displacement of the Zukunft Kino with their building projects.
The first stop on the demo is at the Pandion offices at Unter den Linden. The Cologne-based company is known nationwide for exorbitantly expensive luxury building projects, often using the image of hip, 'creative industry' lifestyles as a key element in its marketing strategies. Pandion wants to build its gigantic co-working space "Ostkreuz Campus" right next to the Zukunft Kino.
The second will be the office of "International Campus Europe" at Tauentzienstraße. International Campus has started building more than 350 micro-apartments at Markgrafendamm 7 – 11. These are to be rented out to students at outrageous prices. The project is even cynically glorified and celebrated by the company as a "Berlin construction project against the housing shortage for students".
The last stop is the office of the company Trockland in Hauptstraße.  Trockland claims to strive to contribute to urban development by "developing real estate and liveable places".
Read more in German about the initiative on the Laskerkiez blog